The trend of remote working has been increasing across all industries, according to Gallup's State of the American Workplace report. In 2012, 24% of employees were spending 80% or more of their time working remotely. In 2016, 31% were found to be doing the same. Moreover, the trend within remote companies towards fully remote is accelerating.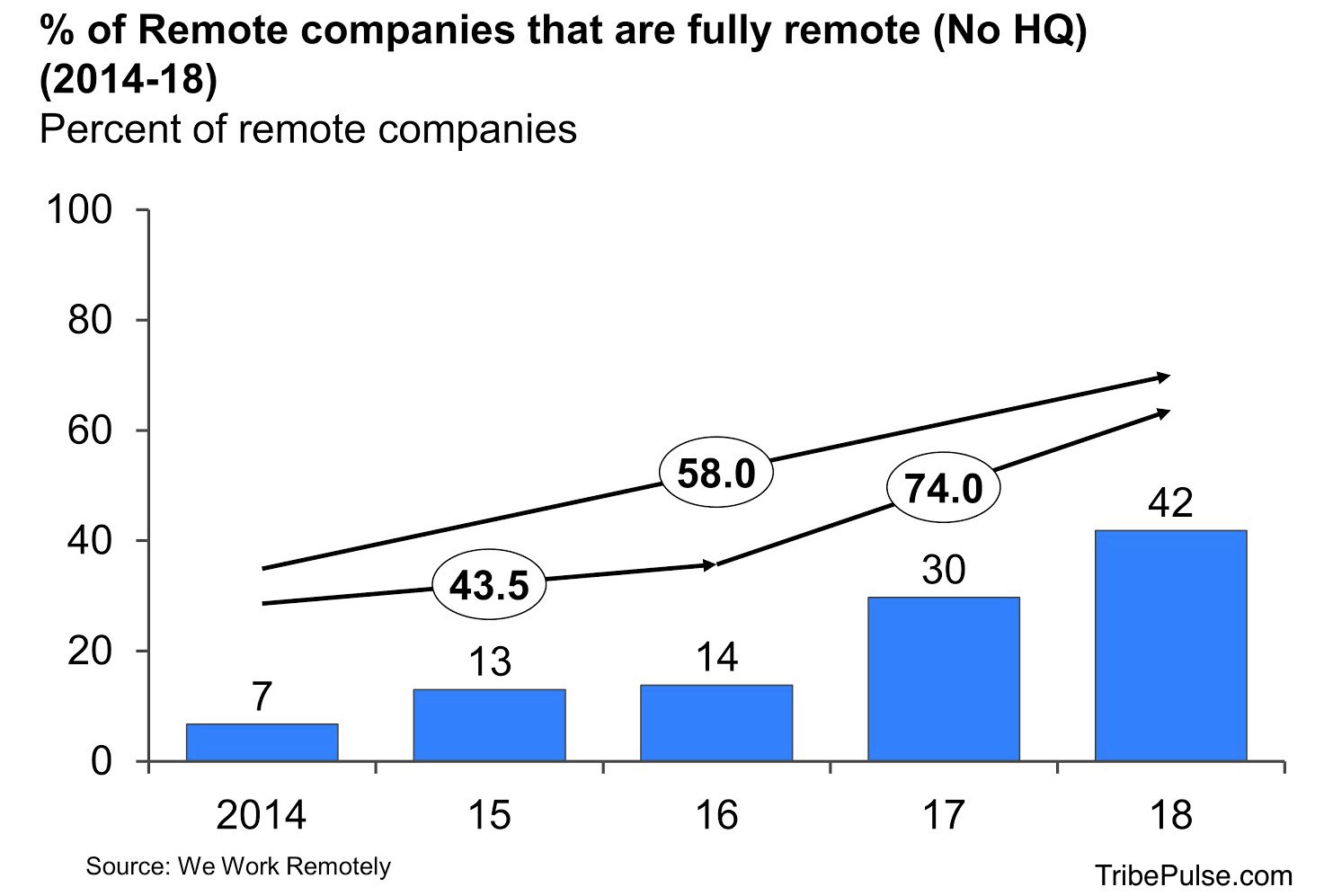 The Positive Influence Of Remote Working
As employees increasingly turn to remote working, leaders and managers worry about the impact of remote working on individual, team and organizational performance. In 2013, Yahoo made the headlines when choosing to end their work-from-home program. IBM, Best Buy and Bank of America have also reportedly eliminated remote work for various roles such as marketing or engineering. In each case, the companies emphasised the need to improve teamwork, collaboration and communication as reasons for the change.
Despite the skepticism of some established companies, research has shown that all employees who spend at least some (but not all) of their time working remotely have higher engagement than those who don't ever work remotely.
Indeed, through their study, Gallup found that remote working can positively influence employee engagement and performance but only when employees maintain some connection to the company's offices.
The most engaged remote workers agree that someone at work cares about them as a person, encourages their development and has talked to them about their progress.
Great Managers Are The Key to Mastering Remote Work
Whatever the company, managers are increasingly supervising employees with very little face-to-face interactions.
Organisations that offer successful remote working are quite disciplined in creating structured plans and processes to effectively equip their remote employees. Several well-known tech companies offer to employees who are new to remote-working a set of all the equipment and learning support they need to start remote working.
However, this material support is far from enough. Much of what affect the engagement of fully remote workers can be summarised by two critical factors of engagement: relationships and development.
By definition, remote workers don't have organic ways to interact with coworkers. Many successful remote managers leverage platforms such as Slack or online forums such as TribePulse to create a virtual community that mirrors or even surpasses the office environment.
But still, remote workers can struggle to receive guidance. It's not as easy for managers to stop these employees in the hallway to see how their days are going, give feedback or ask how they are progressing on projects. But if managers begin to intentionally grow their relationships with these employees, they might find themselves with a powerful group of high performers.
Tactics The Best Remote Managers Use
Be intentional. Managers should make an effort to connect with remote employees more consistently  and thoughtfully. Engagement with employees should not be measured by volume, but by impact.
Know the needs of your employees. Successful managers from large, well-known companies all stressed the importance of getting to know your employees as people and caring for them as individuals.
Create a virtual community. It's hard for remote employees to feel connected to their teams and the organization if they rarely or never meet in person. Successful managers of remote workers cultivate a social environment through effective use of tools such as Slack or Zoom.
Meet in person. While technology can help support remote employees and connect them to their coworkers, successful managers of note the immense power of face-to-face team meetings. If the budget and schedules allow, many successful remote teams meet at least once a year in person.
If you wish to learn more about how to engage your remote workforce, we invite you to check out the full report on Gallup and check out our other content by joining the More signal, less noise Tribe.